Cart (0)
Questions? 1.800.711.5273
We Keep Business in Business™
Proudly Serving Northern California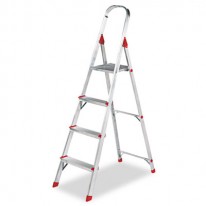 Locking platform provides large standing area. Top rail for safety and convenience. Deeply serrated extruded aluminum steps for security and slip-resistant foot caps. WARNING: Metal ladders conduct electricity. Do not use where contact may be made with live electrical circuits. Select ladder of proper duty rating to support combined weight of user and materials.
Write a review
Your Name:
Your Review:
Note: HTML is not translated!
Rating:
Bad
Good
Enter the code in the box below:

Copyright © 2022 Vanzebo Laser & Officedesk. All rights reserved.