Cart (0)
Questions? 1.800.711.5273
We Keep Business in Business™
Proudly Serving Northern California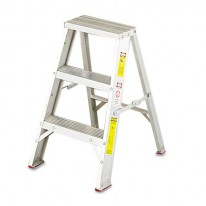 Two full safety steps, pinch-resistant side locks, slip-resistant tread on shoes. WARNING: Metal ladders conduct electricity. Do not use where contact may be made with live electrical circuits.
Write a review
Your Name:
Your Review:
Note: HTML is not translated!
Rating:
Bad
Good
Enter the code in the box below:

Copyright © 2023 Vanzebo Laser & Officedesk. All rights reserved.