Cart (0)
Questions? 1.800.711.5273
We Keep Business in Business™
Proudly Serving Northern California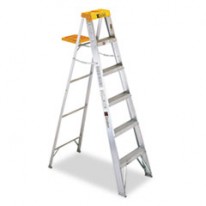 For painters and other tradespeople; ideal for use in institutional settings and apartment buildings. Molded plastic top holds quart paint can and has slots for small hand tools. Extra-large automatic pail shelf. Full 3 inch U-channel serrated steps. Angle bracing on bottom step and all back bars. WARNING: Metal ladders conduct electricity, do not use where contact may be made with live electrical circuits.
Write a review
Your Name:
Your Review:
Note: HTML is not translated!
Rating:
Bad
Good
Enter the code in the box below:

Copyright © 2022 Vanzebo Laser & Officedesk. All rights reserved.