Cart (0)
Questions? 1.800.711.5273
We Keep Business in Business™
Proudly Serving Northern California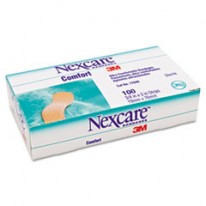 This bandage is made of a soft, velvety material that stretches and conforms. It combines performance and comfort so it is particularly well-suited for use by the whole family. Soft, breathable material allows sweat and moisture to evaporate. Adhesive seals around pad to help keep out dirt and contaminants. Non-stick pad won't stick to wound for greater comfort. Extra-stick adhesive resists loosening when wet, even when fully immersed in water. Latex-free, too.
Write a review
Your Name:
Your Review:
Note: HTML is not translated!
Rating:
Bad
Good
Enter the code in the box below:

Copyright © 2020 Vanzebo Laser & Officedesk. All rights reserved.