Cart (0)
Questions? 1.800.711.5273
We Keep Business in Business™
Proudly Serving Northern California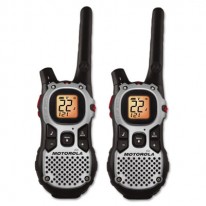 Consumer radio which utilizes the General Mobile Radio Service (GMRS) band for non-business use. Provides up to a one-mile range in urban areas and up to 27 miles on open flat ground under optimum conditions. Has multiple emergency features, including an emergency siren, built-in LED flashlight and access to seven National Oceanic and Atmospheric Administration (NOAA) weather channels. With the hands-free VOX speakerphone operation, you can continue your activities without stopping to take the call. Provides 22 channels and 121 privacy codes for blocking interference from nearby users.
Write a review
Your Name:
Your Review:
Note: HTML is not translated!
Rating:
Bad
Good
Enter the code in the box below:

Copyright © 2019 Vanzebo Laser & Officedesk. All rights reserved.