Cart (0)
Questions? 1.800.711.5273
We Keep Business in Business™
Proudly Serving Northern California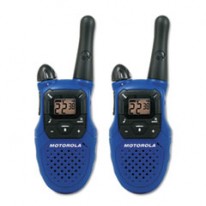 This consumer radio uses the General Mobile Radio Service (GMRS) band for non-business use. Gets a range of up to one mile in urban areas and up to 16 miles on rural flat ground in optimum conditions. Provides 22 channels and 38 privacy codes to block interference from nearby users on the same channel. Operates with NiMH rechargeable batteries for a 12-hour life or drop in three AA alkaline batteries for a 37-hour life.
Write a review
Your Name:
Your Review:
Note: HTML is not translated!
Rating:
Bad
Good
Enter the code in the box below:

Copyright © 2019 Vanzebo Laser & Officedesk. All rights reserved.